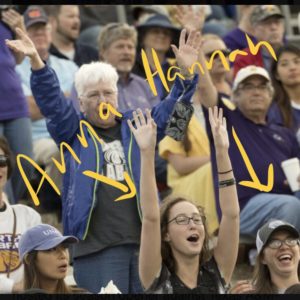 Oh how I love this photo that a Times Daily photog captured. This is Anna standing, with hands raised, cheering on our beloved UNA Lions at the first home game of the season.  That is actually my sweetie pie daughter, Hannah, next to her.
When Hannah texted me the pic, it made me grin from ear to ear.  Why? The thing about Anna is this…she expresses her worship with this same posture.  I usually see Anna in our church's choir, hands lifted high in worship to Jesus.  Even when she is in the congregation, I often see her worshiping this way.
I know I should be focusing on my own worship at church, and I mostly do. But there are some people I just truly enjoy watching engage with the Spirit and Anna is one of these people.
Hands lifted high is common in scripture. Here is a small sampling…
Lift up your hands to the sanctuary And bless the LORD.  Ps. 134:2

We lift up our heart and hands Toward God in heaven…Lam. 3:41

Then Ezra blessed the LORD the great God. And all the people answered, "Amen, Amen!" while lifting up their hands… Nehemiah 8:6a
Please do not think I am judging people's worship by whether or not they raise hands. That is between them and God.
However, many of us have no problem lifting hands high and cheering on our favorite sports team. If you have any doubt about this just be at my house on any given Saturday during football season. But when it comes to that kind of enthusiasm for thanking Jesus from the bottom of our heart for what He has done for us – silence. That is odd to me.
So the thing about Anna is she worships as Jesus directed the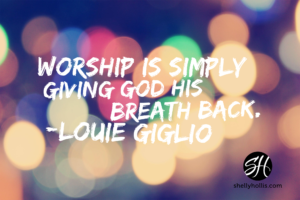 Samaritan woman in John 4:23…"But the hour is coming, and is now here, when the true worshipers will worship the Father in spirit and truth, for the Father is seeking such people to worship him."
So thank you, Anna, for the inspiration (and permission) for this post.