"For God so loved the world, that He gave His only begotten Son, that whoever believes in Him shall not perish, but have eternal life." John 3:16
How in the world do you unpack the most well known, most loved verses in the whole Bible?  John 3:16 is the gospel in it's simplest form.
If the whole of scripture were to some how disappear except for this one beloved verse, there is enough contained in it to lead "whosoever" to a saving knowledge of Jesus.
Writers, preachers, and speakers alike often neglect this verse because it has become common and overused. Anybody remember the guy that wore the rainbow wig and John 3:16 t-shirt at major sporting events in the 70's and 80's?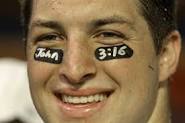 More recently Tim Tebow wore eye black with John 3:16 inscribed in it during the 2009 BCS championship game. Google got millions of hits when fans googled the reference.  Amazingly, 3 years to date later when Tebow played in his first NFL game, ESPN reported Tebow threw for 316 yards and averaged 31.6 yards per completion!