Anybody else in the state (Alabama or Georgia) have a "football" hangover? That was one of the most exciting games I have ever watched. #kingsofconfetti
Admittedly, I did try to sneak off to bed around 9pm, but my sweetie pie came in after half-time and started watching it in our bedroom. So…I was up and I am so glad I was!  My husband's Apple Watch literally sent him a heart-rate alert when he hit 142 bpm.
As I thought about the highlights and memorable moments from the game, I strung together at least 9 lessons I learned from these gutsy players and coaches on both sides. And most of these lessons totally have a spiritual application.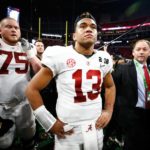 Take risks in faith. 

When Saban put Tua Tagovailoa into the game, a true freshman, he was making a public statement about the faith he had in his number 2 quarterback. It is one thing to say you have faith, but quite another to put it into action. Actions flow from belief. 

The spiritual parallel

: "And without faith it is impossible to please him, for whoever would draw near to God must believe that he exists and that he rewards those who seek him." Hebrews 11:6. Does our faith in Christ flow out of us in actions or is it just lip-service?

Let brotherly love continue. 

How did I miss the storyline of the brothers? Calvin & Riley Ridley served 

on opposing teams, but in the end, came back together for a family reunion. 

The spiritual parallel: 

"Iron sharpens iron, and one man sharpens another." Proverbs 27:17. As we interact with our brothers and sisters in Christ, there will be opportunities for conflict. 

Conflict can be a gift depending on how it is handled. We don't have to agree on everything, but if we listen to someone who is spiritually grounded with a different view, we might just learn something. 

Always kiss your wife! 

My favorite part of the post-game was watching Nick celebrate with his family. He was hugging and kissing on his sweet wife and others in his family. 

The spiritual parallel:   

 "Husbands, love your wives, as Christ loved the church and gave himself up for her…" Ephesians 5:25. I don't know the spiritual condition of Nick Saban, but he sure does love on Miss Terry. 

Don't lose your cool. 

Ok, I am not sure what all happened to make #48 (Mekhi Brown) lose his cool, but he did. I know the game was emotional. I know he is a youngster. But controlling the throttle of emotions is a vital characteristic of a leader. 

The spiritual parallel: 

"

Likewise, urge the younger men to be self-controlled." Titus 2:6. I think this is fairly self explanatory. 

Give credit to whom credit is due.

Jalen Hurts exhibited a lot of class during the second half. He could have easily sat on the bench and sulked. After all, he had been the one to lead Alabama to this point. But nope – he stood, cheered, encouraged, and bragged on Tua! And don't forget Jalen's contributions. He deserves a lot of credit too. 

The spiritual parallel: 

"Pay to all what is owed to them: taxes to whom taxes are owed, revenue to whom revenue is owed, respect to whom respect is owed, honor to whom honor is owed." Romans 13:7 

Don't be afraid to try something different.

 

Goodness, I could spend awhile on this one. Sometimes we get so stuck in the paralysis of analysis that we continue with ineffective patterns and get the same sorry results over and over. Nick was not afraid to try something new. I think most sports broadcasters' heads were about to explode when Nick did that. It was a gutsy move with a huge pay off. 

The spiritual parallel: 

Alright, I can't find a verse that fits here without really pulling it out of context. But, I will quote Einstein here: Insanity is doing the same thing over and over and expecting different results. 

Keep fighting until the bitter end! 

I am glad the Alabama coaches, players, and many fans didn't

quit after half time like I did (remember, I went to bed). I am thrilled they kept digging, looking for new routes, trying a new QB, etc…until they found a way to win! 

The spiritual parallel: 

"And let us not grow weary of doing good, for in due season we will reap, if we do not give up." Galatians 6:9. We all go through rough patches and seasons of discouragement. But I love this promise of reaping good things if we keep on working!

Have your teammates' back. 

Oh Pappanostos. My heart went out to this kicker who missed

a huge field goal attempt. But then I saw this image from USA Today Sports with the caption "We got you", my heart melted!

The spiritual parallel: 

"And as you wish that others would do to you, do so to them." Luke 6:31. You never get to big or old for the golden rule to apply. 

Always give God the glory. 

It did my heart good to hear Tua and others give God the glory for all He has done for them. These young men showed great strength of character to claim the name of Jesus on the most public of platforms. 

The spiritual parallel: 

"For whoever is ashamed of me and of my words, of him will the Son of Man be ashamed when he comes in his glory and the glory of the Father and of the holy angels." Luke 9:26
Oh the moments of panic and joy this game brought! It was quite the emotional thriller. When we are living on the edge of faith, taking God-sized risks, and honoring God, our lives can be much like the amazing game. Absolutely. breath. taking.
I don't want a boring, predictable walk with Jesus. I want to feel the wind in my hair and try new things with Him coaching me all the way home!