I've often heard it called the dark night of the soul – a season of life where God seems to fall silent and uncaring. 
We really don't like to talk about it because it sounds sacrilegious. So instead of dealing with the darkness, we stuff the reality of our walk through the dark night until we become numb. How do we handle the feeling that God is being cruel?
Have you been there my friend? Are you there at this very moment? Do you feel your heart's cry for deliverance has stopped at the ceiling? Or maybe you have stepped outside and screamed at the top of your lungs, but your cry dissipates into thin air without reaching the ear of God?
Job, in his deep distress, declared God had abandoned him.
I cry to you for help and you do not answer me; I stand, and you only look at me. You have turned cruel to me; with the might of your hand you persecute me. Job 30:20-21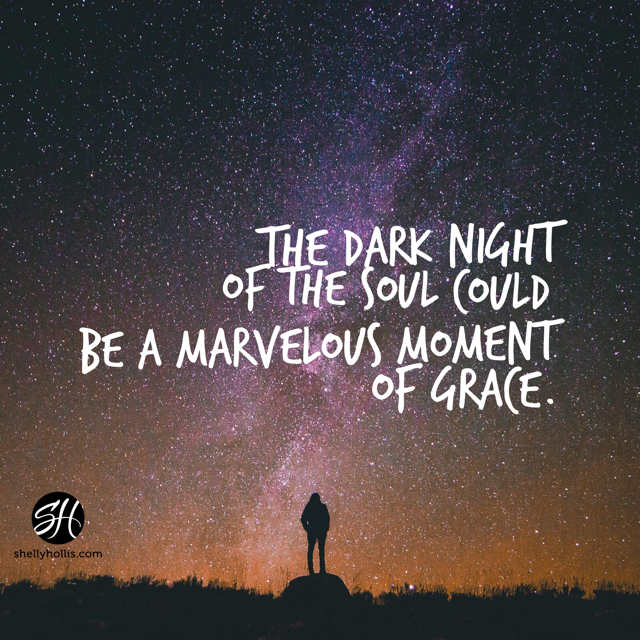 But could this dark night of the soul be a a marvelous moment of grace? Yes – grace. God is likely trying to teach you one of THE most important lessons of your life.
The times when God seems the most quiet, with a deaf ear, may be the times He is the most active in your life. Job had no idea God was watching over glory's balcony watching everything unfold while restraining Satan on a leash. Jesus asked His own Father why He was forsaking Him on the cross. In that moment, while darkness fell on the earth, God was performing the single-most glorious act of deliverance for humanity.
However, dark night of the soul seasons are also the times we are squirming with fear and anxiety. But then we hear His voice through the pages of His Word telling us things like:
"be still and know that I am God" Psalm 46:10
"Do not fear! Stand by and see the salvation of the LORD…The LORD will fight for you while you keep silent." Ex. 14:13-14
"But the Lord stood with me and strengthened me…" 2 Timothy 4:17
"Casting all your anxieties on Him, because He cares for you…1 Peter 5:7
"But the LORD is in His holy temple. Let all the earth be silent before Him." Habakkuk 2:20
Battling the dark night of the soul is scary and difficult. There is no shame in Christian counseling – it is sometimes needed to help you sort through the anxiety.
But don't miss the message in this marvelous moment of grace. God is not being cruel. It may be a message that purges, purifies, and positions you on your knees before God.
Encourage other believers today. Have you experienced a season like this? What did God teach you and how did you make it through?